Meet Our Doctor & Team
Take a couple of minutes to meet and get acquainted with the caring and compassionate team at Diamond Dental of Sacramento in Sacramento by reading each of their biographies. You'll learn a little bit about Dr. Sheetal Padval and her team members, including their education, work experience, and professional associations. Then you'll see why we are such a good fit for your needs. We truly look forward to meeting you and having the opportunity to serve you, as well as your family!
Sheetal S. Padval, DDS
CA Dental License #: 100809
Dr. Padval is a talented and caring dentist who always brings a wealth of knowledge and positivity to the office. She thoroughly enjoys meeting all the new patients and looks forward to helping them improve their health and creating smiles they can be proud of!
Dr. Padval first attended Rural Dental College at Maharashtra University of Health Sciences (MUHS) back in India, where she graduated with a Bachelor of Dental Surgery (BDS). In the US, she attended NYU College of Dentistry and graduated with a DDS in 2016. While at NYU, she received honors in Oral and Maxillofacial Surgery, honors in Craniofacial Anatomy, and honors in Research. She has also completed oral surgery externships at Emory University and Texas A&M University.
Along with her California dental license, she has an additional sedation certification, which allows her to offer moderate (IV or oral) sedation services for dental procedures.
Dr. Padval is a believer in lifelong learning and keeps her knowledge up-to-date with boundless hours of continuing education courses—in all aspects of dentistry! Specifically, she has attended Spear Education workshops on occlusion, advanced occlusion, and live implant training. She has also completed courses relevant to the Academy of General Dentistry's fellowship requirements and courses on sedation consulting.
Dr. Padval also believes in giving back to the community. While attending NYU, she participated in a pediatric dentistry outreach program, as well as volunteering for Odyssey House, where she provided dentistry for patients in substance abuse rehabilitation programs. She has also worked in Nicaragua, providing outreach and placing dental implants, and previously volunteered her time as a zookeeper at the Folsom City Zoo Sanctuary!
When she is not practicing dentistry, she is traveling for her dental CE course (most likely!) and also enjoys drawing, painting, gardening, tending her fresh and saltwater aquaria, and spending time with her family.
Learn More About Her Journey!

Why dentistry? My simple, honest answer is, "Because I did not want to go to art school!"

Back in India, I had already secured admission to the topmost art school (which was my dad's dream for me). I was great at art, but I always had more inclination toward medicine, so when the counselor told me that medical admission was closed, I was really upset as that meant that art school was inevitable. Then the counselor suggested dental as an alternate choice, and I honestly enrolled myself in dental school just to avoid going to art school!! That has been the best decision of my life! My first dental school in India was an accidental decision, but when I went to NYU College of Dentistry the second time around, it was a well-thought-out decision. Dentistry is this amazing blend of art, science, and psychology (in my humble opinion) that has fascinated me for over a decade. Dentistry is my "Ikigai!" (a Japanese concept of finding a purpose that is fulfilling in all aspects of life.)

With that said, my journey took me through several workplaces and different models of dental practice, such as corporate dentistry, community clinic dentistry, private group practice, etc. Still, I realized that to get my vision into reality, I needed to have complete control of things, and here I am!

I consider myself lucky, as while taking over Diamond Dental of Sacramento, I acquired the best team of similar-minded professionals, Tiffany, Shayna, Luz, and Tracie, who are all very skilled, patient, and committed to providing positive dental experience in every way!
Memberships & Associations
Our Team
Diamond Dental of Sacramento is able to provide the highest quality care thanks to an incredible team of dedicated, friendly, and knowledgeable individuals. Whether it is our hygienists or assistants, office managers or administrators, each team member helps our practice run smoothly and works with a shared commitment to our patient's oral health, comfort, and overall well-being. Take a few minutes to meet the team at Diamond Dental of Sacramento.
Tiffany
Office Manager
Tiffany is a Registered Dental Assistant (RDA) and is also the Office Manager at Diamond Dental of Sacramento. She joined the team in 2010 and has been an integral part ever since! She loves meeting all the interesting people from our community, building a relationship with new patients, and getting to know them on a personal level. In her free time, Tiffany enjoys spending time with her three boys (often playing Call of Duty together) as well as taking trips to Peppermill Casino for a bit of recreation! 😉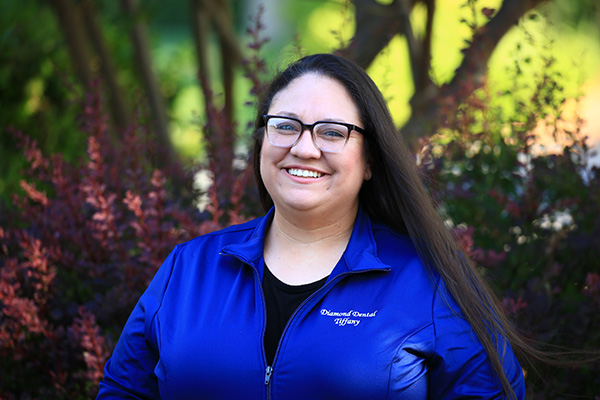 Shayna
Registered Dental Hygienist (RDH)
Shayna earned her Bachelor's Degree from the University of Pacific and has been working at Diamond Dental of Sacramento since 2018. The thing she likes most about being in the dental field is helping people improve their health and the satisfaction of seeing their progress over time. When not at work, she likes to crochet, sew, and quilt. Shayna is also a true animal lover, working as a docent at Sacramento Zoo, and she also has four cats of her own!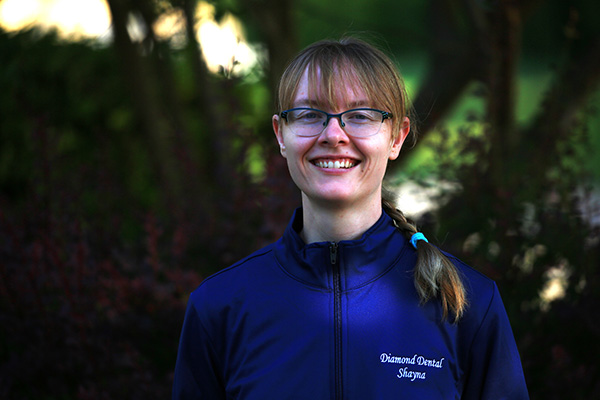 Tracie
Registered Dental Hygienist (RDH)
Tracie received her Bachelor's Degree from the Utah College of Dental Hygiene in 2008 and has been working at Diamond Dental of Sacramento since 2019. She enjoys getting to know patients on a personal level and especially loves watching people's health improve as she helps them reach and maintain a healthy smile. In her spare time, Tracie is an outdoor enthusiast who enjoys camping and hiking, as well as spending time with family and traveling. She also stays involved with her church community and loves being a mom to her seven kids!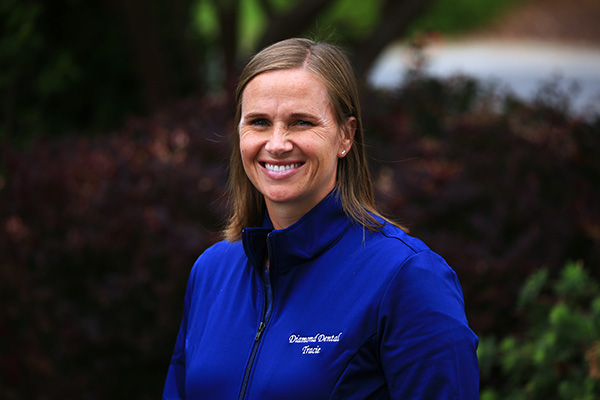 Luz
Registered Dental Assistant (RDA)
Luz is one of our Registered Dental Assistants (RDA), and she has been with Diamond Dental of Sacramento since 2021. She really enjoys the hands-on experience of truly making a difference in people's smiles! In her free time, Luz enjoys spending time with her two children, and loves to take road trips to Santa Cruz to visit family and friends.